Over the 4th of July weekend, some people chose to set off fireworks on the JW Football field causing some damage to the turf. If anybody has information regarding who was involved, please call the District Office at 785-484-3444. Thanks in advance for any help you can provide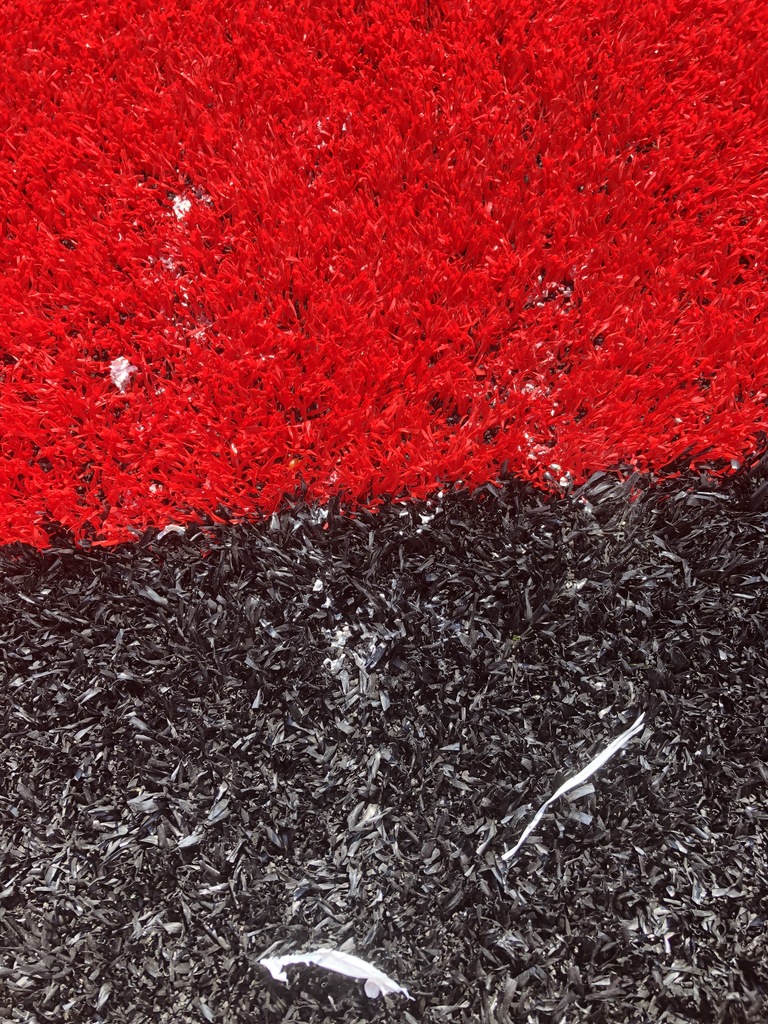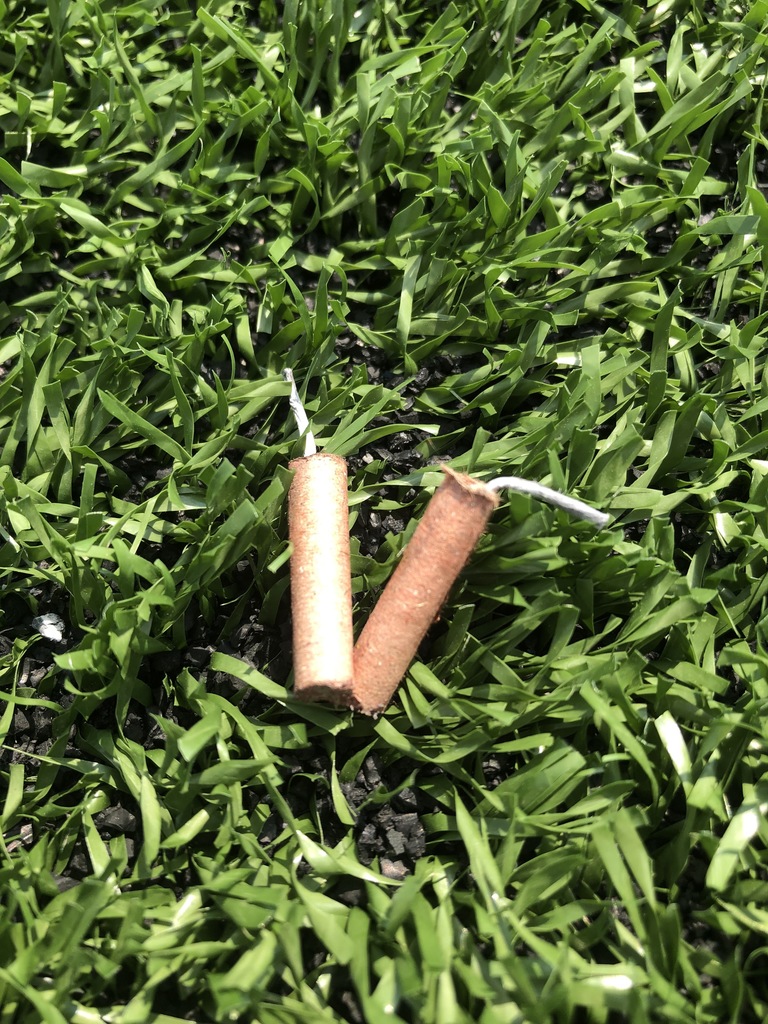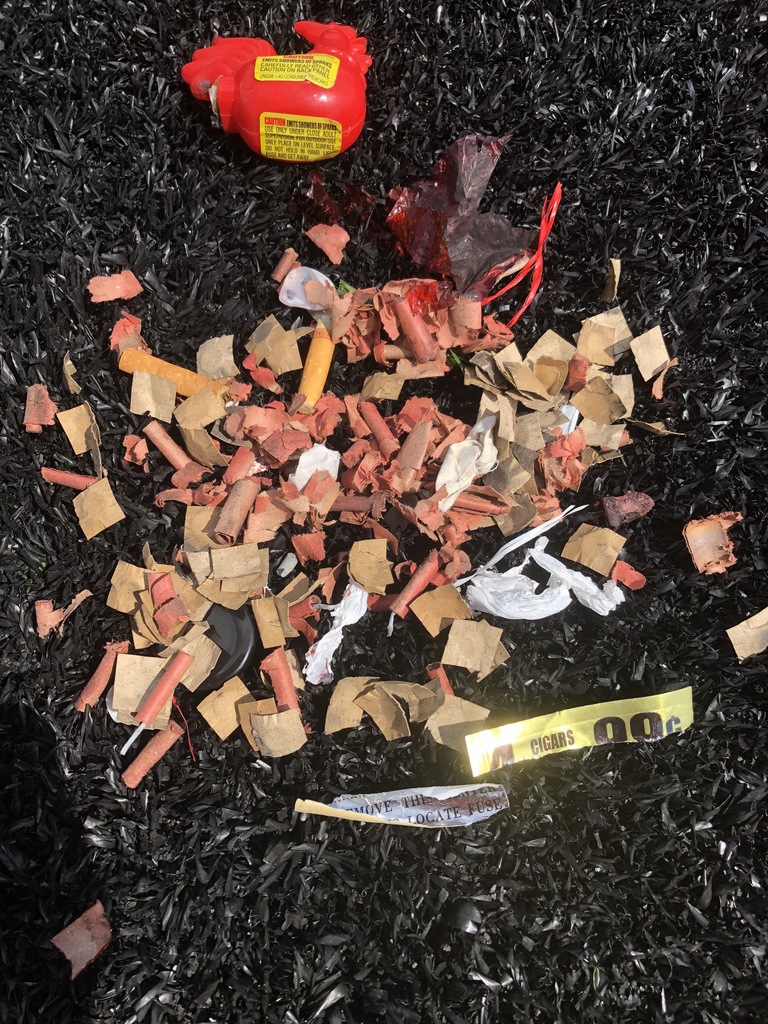 USD 340 Jefferson West, located in Meriden, Kansas, is accepting applications for a HS Head Boys Basketball Coach for the 2021-22 Season.  Below are the following positions that are open: K-4th Grade PE Teacher 5th Grade Teacher MS Math or MS Language Arts Teacher K-12 Social Worker HS Biology / Life Science Teacher An application can be downloaded from our district website at
www.usd340.org
; please submit application, cover letter, and or resume through the KEEB site or emailed to Board Clerk at
amy.adams-mitchell@usd340.org
.  Thank you.

K-6th Grade and 9-12 Grade HS VB Camp Flyer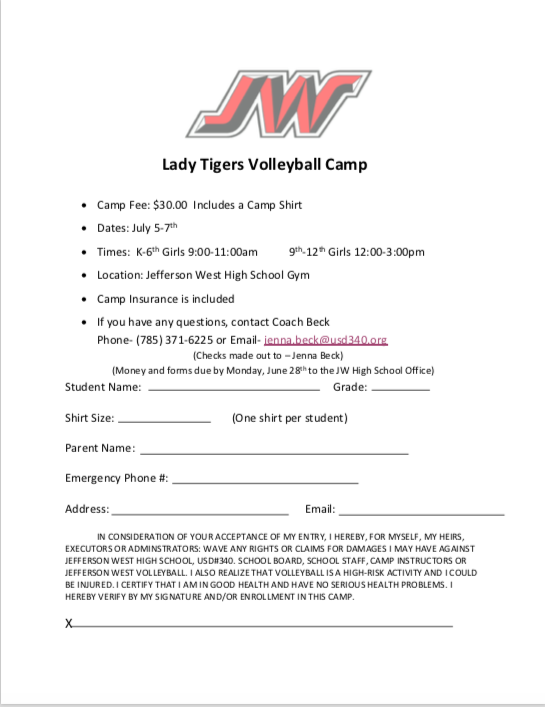 The Jefferson Medical Clinic in Winchester is offering free sports physicals by appointment.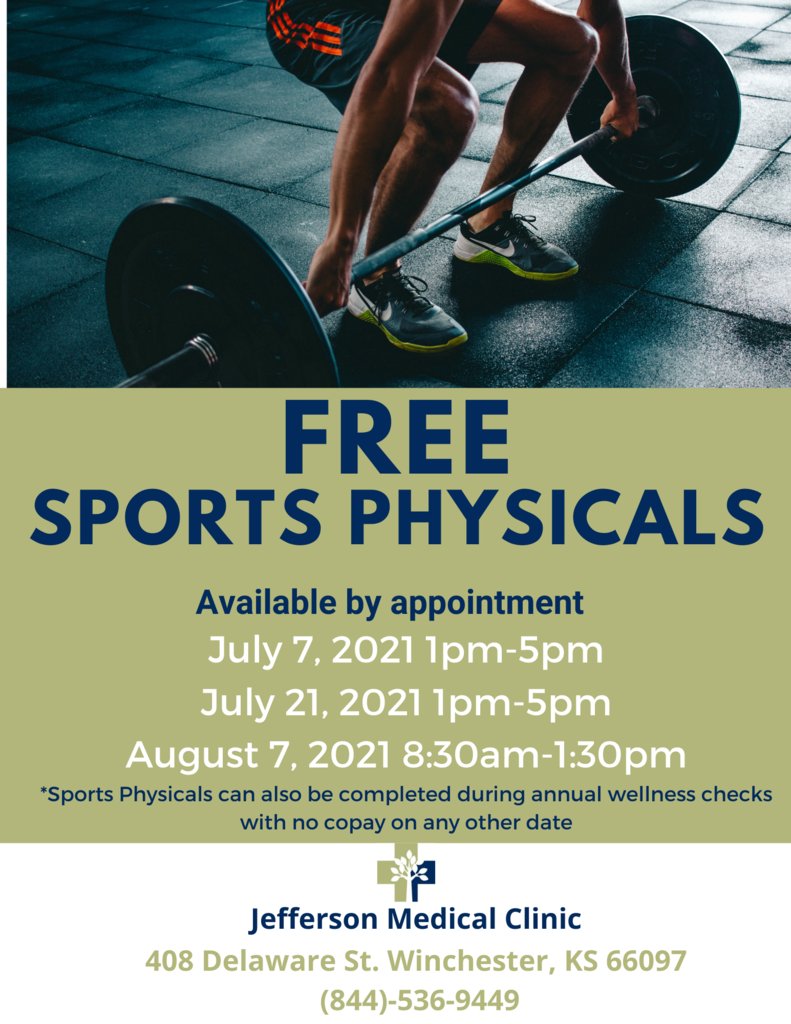 HS Girls B'ball Camp Flyer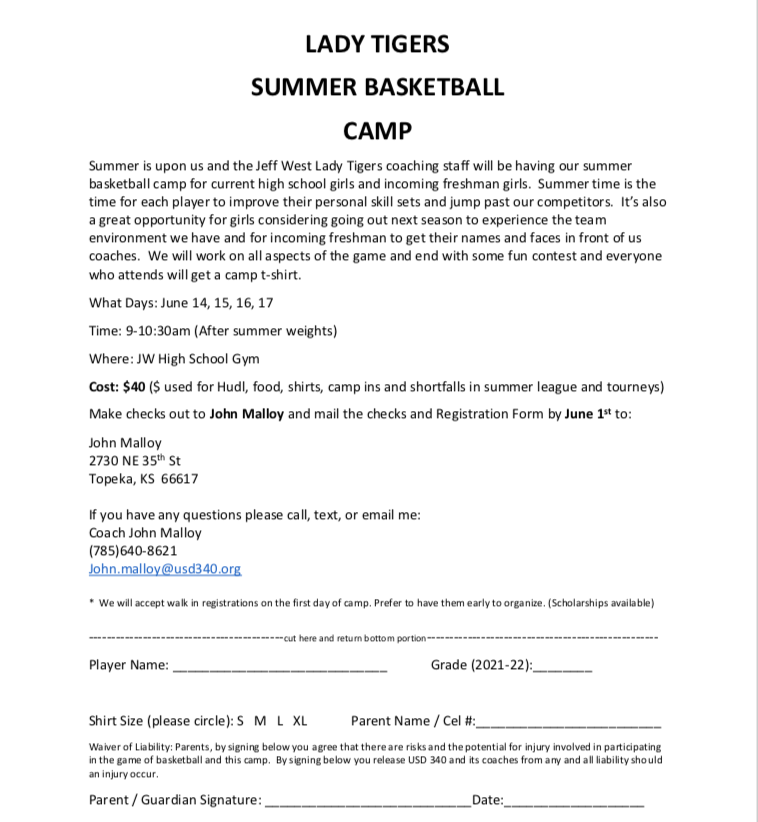 HS Football Camp Information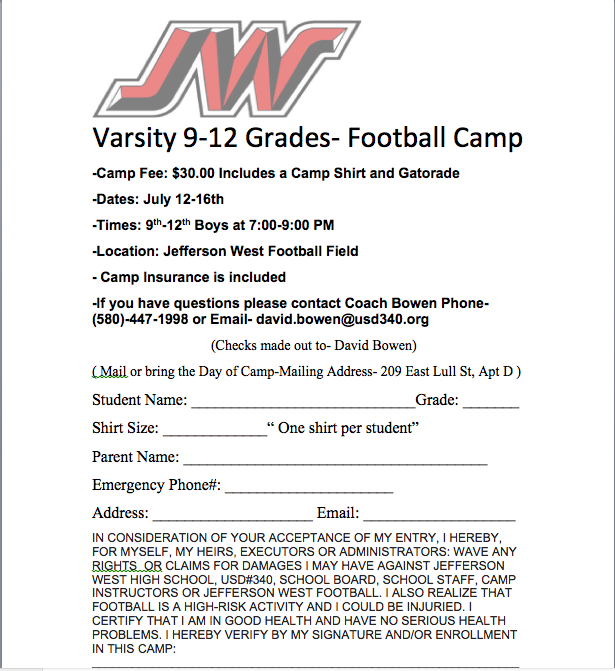 Summer Weights / Conditioning Information

There will be a HS Football Parent Meeting on Thursday, June 10th @ 6:30pm in the HS Commons. Coach Bowen and the HS FB Coaching Staff look forward to meeting everyone.

Congratulations to the State Track Qualifiers as they competed at the State Track Meet on Friday. Mellany Roenne - 8th Place in the Triple Jump Logan Wheeler - 11th Place in the Pole Vault Girls 4x400M Relay - 16th Place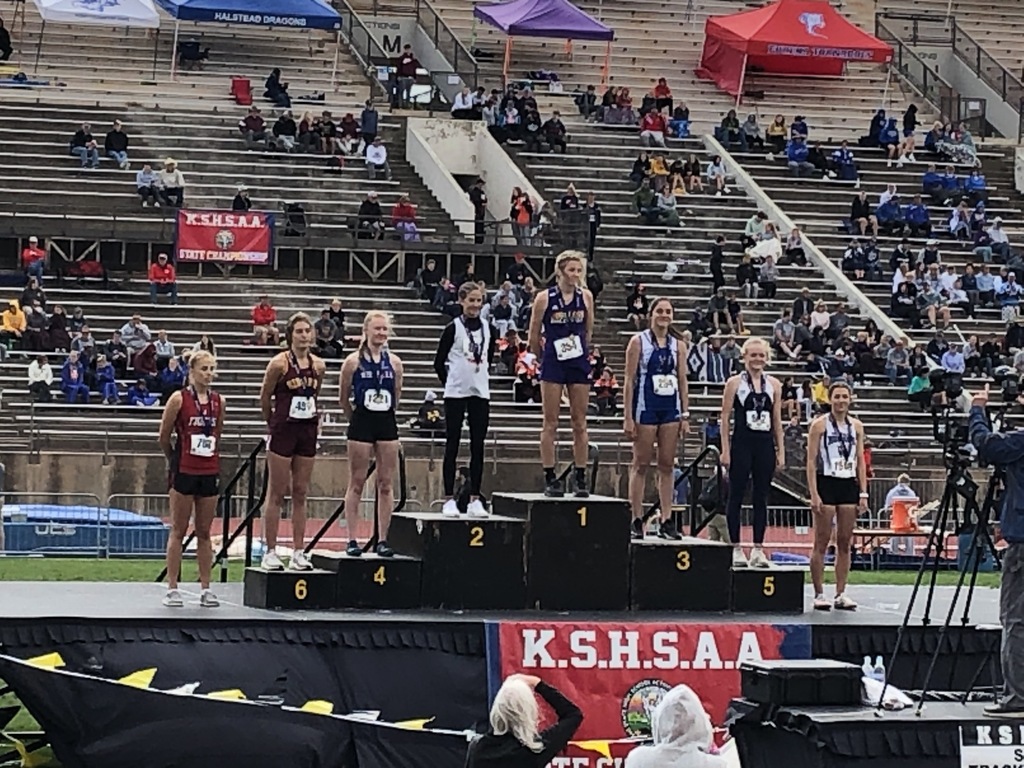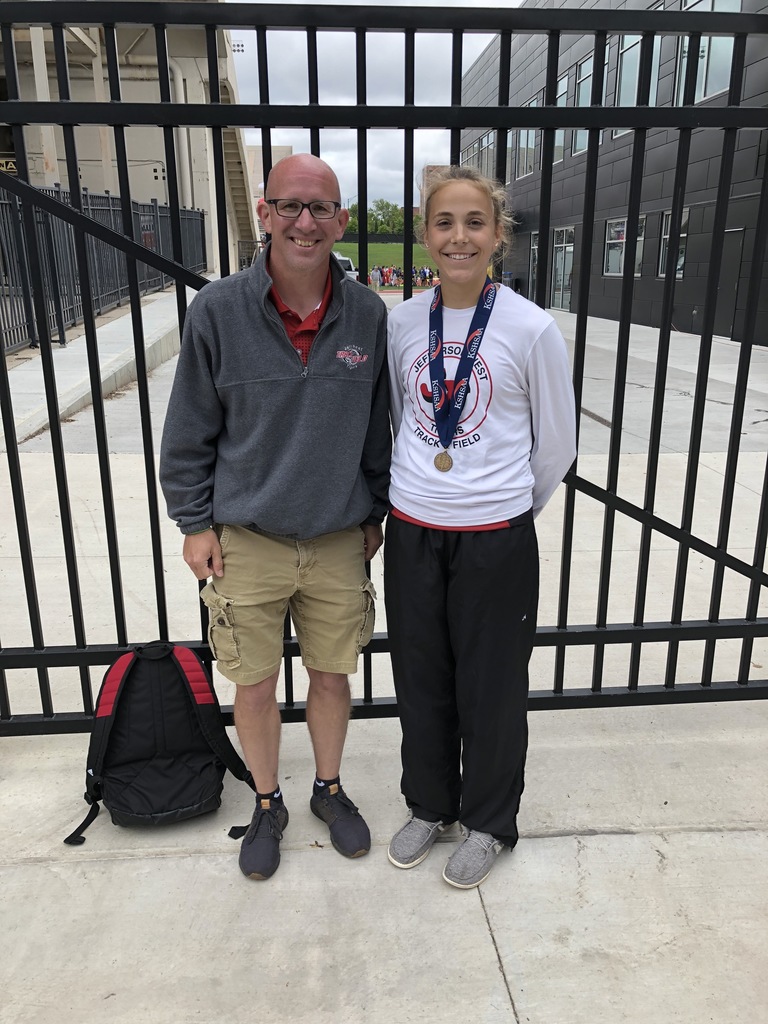 Congrats to the JW Boys Golf Team for placing 5th at the State Tournament played the last 2 days in Hesston, KS. The Tigers were led by: Riley Morrow - 22nd Wyatt Barnett - 31st Colby Farrant - 37th Lake Peet - 41st Josh Murphree - 43rd Sam Brunton - 52nd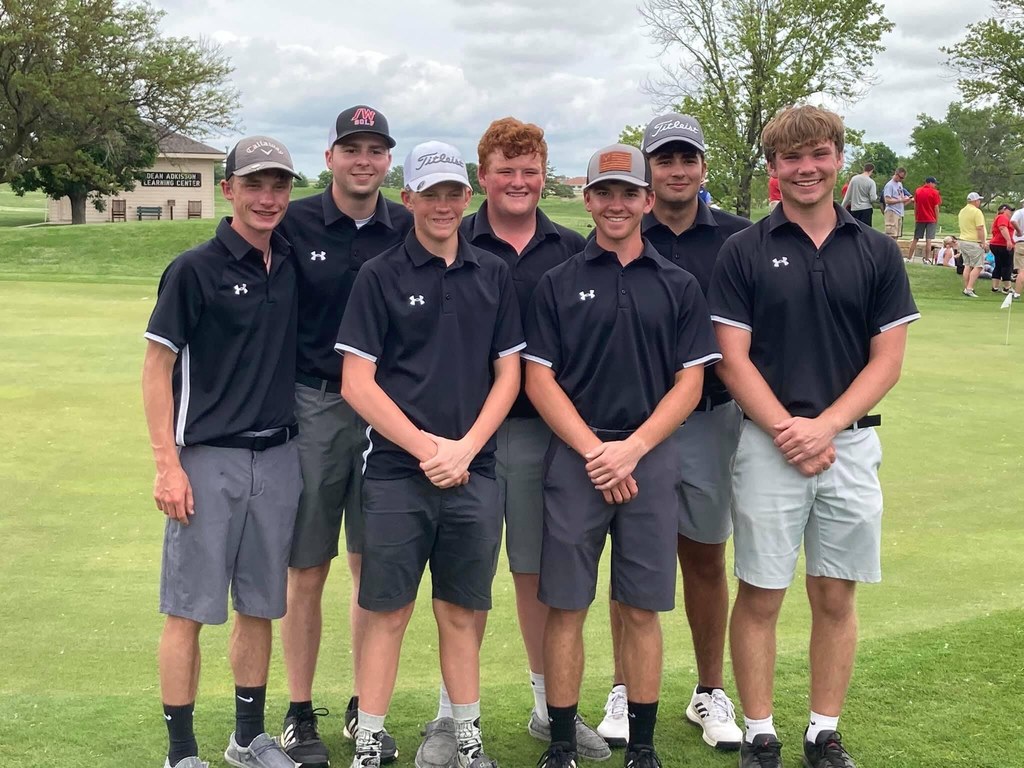 The Jeff West Track Team competed at the Osage City Regional Track Meet this afternoon and following athletes qualified for the State Track meet next Friday. Logan Wheeler - 2nd Place Pole Vault Mellany Roenne - 1st Triple Jump 4x400M Girls Relay - 4th Great Job Tigers!

The Jeff West Boys Golf Team will be leaving Saturday morning at 7am from Jeff West HS. Parents are welcome to join in a send off at 6:45am before they leave for Hesston. Good Luck Tigers at the State Tournament!

Congratulations to the following Jeff West Baseball Players for earning a spot on the Big 7 All League Baseball Team. Luke Dickey - 1st Team Pitcher & Honorable Mention Utility Player Kaden Stones - 1st Team Infielder Preston Gibson - 1st Team Catcher

Congratulations to the following Jeff West Softball Players for earning a spot on the Big 7 All League Softball Team. Rachel Cloud - 1st Team Outfield Mallory Young - 1st Team Infield Jocelyn Hartley - Honorable Mention Pitcher Olivia Davis - Honorable Mention Catcher


Congratulations to our Designated State Scholars! Students must have completed the Kansas Honor Scholar Curriculum, and then the top 10% of all Kansas completers are designated as State Scholars based on ACT and GPA. Our State Scholars from Jeff West are: Wyatt Barnett, Carson Brading, Josh Broxterman, Paul Cowan, Kamirah Fruean, Alexis Graber, Matthew Magathan, and Josh Murphree.

Jefferson West Community Members and Alumni: Please join us as we say thank you and farewell to teachers and staff members who are retiring or who have provided many years of service to our students. Collectively these educators and staff members provided 250 plus years of service to the Jefferson West community. We are holding a reception on Thursday, May 20, 2021, from 3:30 PM to 5:30 PM in the Jefferson West High School Commons for the Teachers and Staff members listed below. If you are unable to attend, you may send your thanks and good wishes via email. Retiring this year: Rod Smith 35 years --
rod.smith@usde340.org
Karen Heady 17 years --
karen.heady@usd340.org
Steve Johnson 15 years --
steve.johnson@usd340.org
Cheryl Lawhorn 13 years --
cheryllawhorn@yahoo.com
Darrell Pater 12 years --
dpsp2009@yahoo.com
Retired a year ago: Ed diZerega 39 years --
ed.dizerega2@gmail.com
Debby Bouton 28 years --
grambee2001@yahoo.com
Doug Sidener 33 years -- He shares his thanks for the invite, but he is unable to attend unless he changes his mind! --
pffdougie@gmail.com
Debbie Duncan several years --
debbieduncan2005@yahoo.com
Leaving or left this year: Leslie Bruton 28 years --
leslie.bruton@usd340.org
John Hamon 14 years --
john.hamon@usd340.org
Tom Blair 11 years -- Bus Driver --
tblair@embarqmail.com
Dennis Scott 6 years -- Bus Driver will not be in attendance but can be reached at --
homebase_5@yahoo.com
We hope to see you Thursday, 3:30-5:30 JWHS commons!